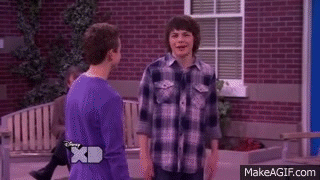 This scene is from the YTV/Disney XD series Mr. Young
Adam watch Echo and Joseph study together. Joseph explains why people can't tickle themselves. Echo says that others can tickle people and they begin and tickle fight. Adam is jealous of them hanging out and says that should be him. Derby misunderstands him by thinking he wants to be tickled so he tickles Adam. He laughs then stops him saying he means it should be him and Echo studying. Joseph and Echo decide they will meet later for studying. Adam feeling upset at this exclaims, and Derby says he know what will help him feel better, and he tickles Adam's chest, Adam tells him to stop again. Adam then admits that it did make him feel a little better and he lifts up his arms and Derby begins tickling his sides and chest.
Ad blocker interference detected!
Wikia is a free-to-use site that makes money from advertising. We have a modified experience for viewers using ad blockers

Wikia is not accessible if you've made further modifications. Remove the custom ad blocker rule(s) and the page will load as expected.